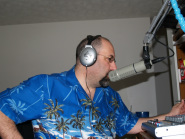 I am amazed by the number of people working in jobs that are completely unrelated to anything that utilizes their speaking voice when their voice is perfect for some kind of communication medium, given the proper instruction and practice. One person who comes to mind is "Little Dan" who use to own Little Dan's Barbecue, a place in central Maine. Dan had the proverbial "voice of God" and would be perfect for anything that requires a "booming" voice.

Then there's me. Radio and professionsl voiceover work is my passion and I have to make up for my lack of a big voice by using certain "personality" behind my words...otherwise, I feel, I just blend in with the crowd.

There are all kinds of voices for all kinds of applications and, if it's something you're truly interested in, I'm sure you will find your strengths and be able to fill a voiceover niche.

I hope to do regular updates on this blog and offer advice, answer questions, share ideas and more. Oh, of course, promote my own business. This is what I do after all...but there's plenty of work out there for everybody. You just need the right attitude, knowing your limits, having the right equipment and marketing with the right web sites.

Thank you for reading this and I welcome your ideas!