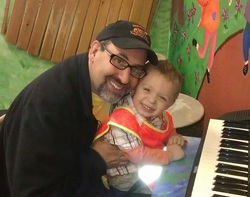 Jon with his grandson, Evan Brady James
Jon James is a husband, dad, grandfather and friend. Those are his most important roles in life. He is also a vetran radio broadcaster of 33 years, 21+ of those as host of the morning show on WMME (92 Moose) in Augusta Maine.
Jon's related work includes his voice over business, TheVoiceGuy.net which, by comparison, is fairly new, having started in 2006. Working from home has always been one of Jon's goals and he is hoping that this business will flourish long after he does his last radio show.
The goal of TheVoiceGuy.net is to "super-serve" people who put their trust in the company. Work will be done as quickly as humanly possible with no request for payment until a satisfactory product is in the client's hands. Jon has always been of the mindset that you should be able to try before you buy and, although this may not work for every person doing this type of work, it seems to work just fine for Jon and his customers.
If you have any questions or would like a free sample read, don't hesitate to contact TheVoiceGuy.net by filling out the form you'll find
here
.
---